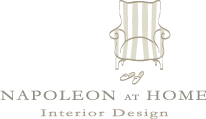 Robert Graves, Principal Designer
Robert Graves is the Principal Designer and President of Napoleon at Home. He purchased the company from its founder, Maria Caldwell, in 2014 after the two collaborated on several projects. He is grateful for the beautiful foundation she built, and for the opportunity to take the company to the next level.

For interior design and home staging inquiries, please contact him directly at 408-893-8687 or robert@napoleonhome.com.